Chitkara University
Chitkara University, located in Punjab, India, is a renowned educational institution committed to providing high-quality education and fostering academic excellence. With a diverse range of programs spanning engineering, business, healthcare, and more, Chitkara University has consistently strived to empower its students and create a nurturing environment for their holistic development.
Task
Create visually captivating content for Chitkara University's social media platforms using the different placement sizes, enhancing their online presence and engagement.
Brand Name

Chitkara University (PUNJAB)

Capability

Digital Branding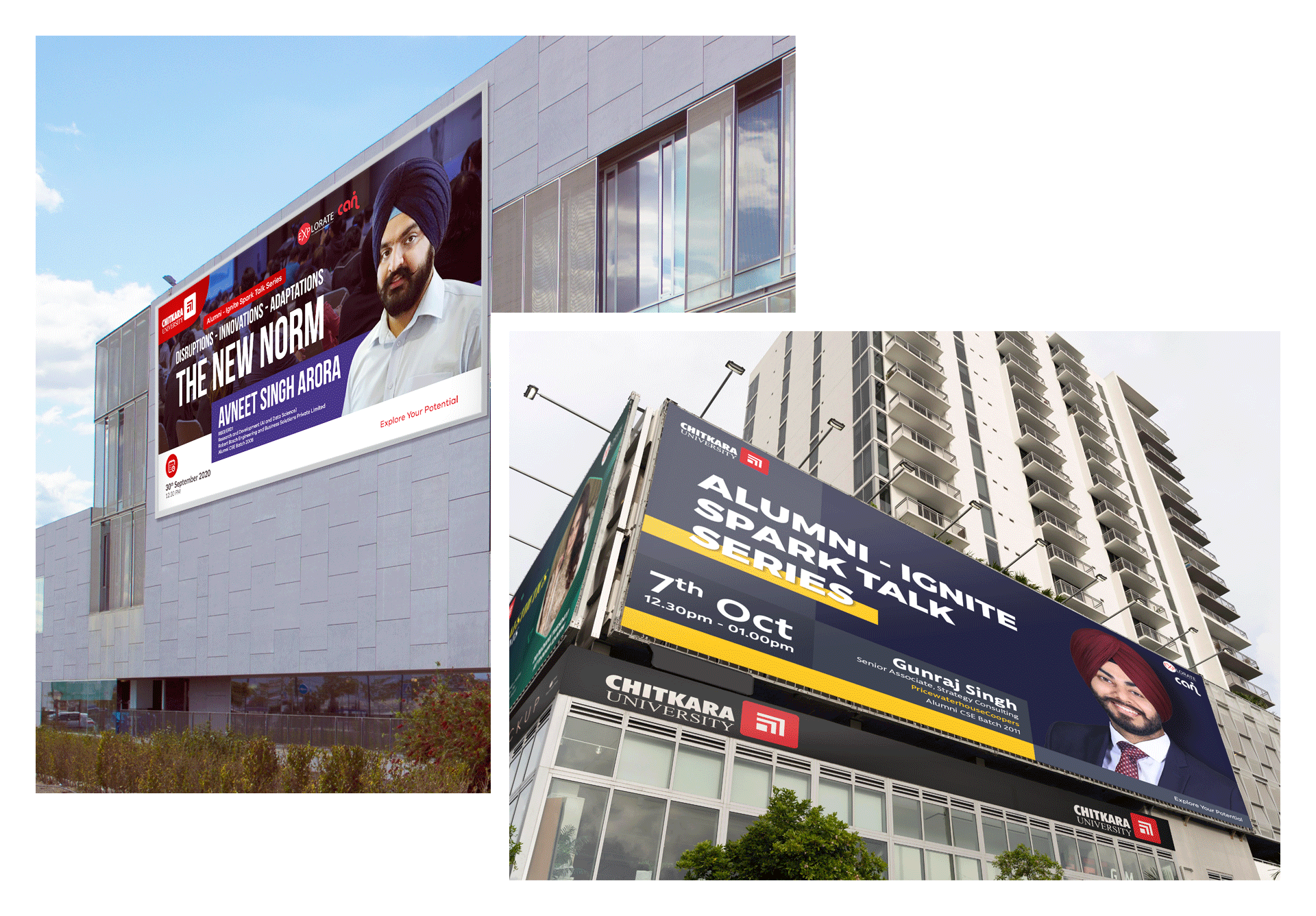 Visual Delights
Unleashing Visual Marvels: Illuminating Online Events of Chitkara University
Our design team took on the task of creating captivating visuals for the online events organized by the various departments of Chitkara University. With careful attention to detail and a deep understanding of each department's unique identity, we crafted visually striking graphics, banners, and promotional materials. These visuals not only captured the essence of each event but also effectively communicated key information to the target audience, resulting in increased participation and engagement. Through this section, we proudly present a collection of the visuals created for Chitkara University's online events, showcasing the seamless fusion of creativity and functionality.
Illuminating Pathways
Engaging Visuals for Chitkara University's LinkedIn Placement Events with Industry Mentors
Step into the world of professional development as Chitkara University opens the doors to an exceptional networking experience on LinkedIn. Our design team embarked on a creative journey to curate visually captivating graphics and visuals exclusively tailored for Chitkara University's online events. These events feature esteemed mentors from diverse industries, imparting valuable insights and knowledge to guide students towards a successful career. Through this section, we proudly present a collection of visually stunning creations that not only enticed participants but also effectively conveyed the essence of each event, sparking curiosity and inspiring meaningful connections on LinkedIn's professional platform.
Unveiling Success Tales
Dynamic Visuals for Chitkara University's 9:16 Story and WhatsApp Marketing Campaigns with Industry Mavericks
Prepare to embark on an extraordinary journey as Chitkara University presents a groundbreaking initiative in the form of captivating 9:16 visuals for their story-driven and WhatsApp marketing campaigns. Our ingenious design team ventured into uncharted creative territory, crafting visually mesmerizing masterpieces specifically tailored for online events hosted by Chitkara University. These events boast renowned mentors from prominent industries and companies, igniting the flame of knowledge and wisdom in students' minds. In this section, we proudly unveil a dazzling gallery of visuals that seamlessly blend innovation and engagement, ensuring that each campaign visually amplifies the essence of the event, captivates audiences, and fosters valuable connections that transcend traditional boundaries.
Let's Collaborate
Got a project? Let's talk.
Let's Collaborate
Got a project? Let's talk.
We're a team of creatives who are always excited to shape brands to the right curve of success. We'd love to craft and shape your narrative and sell your story.